LA Weekly (1/6/02)
Pacific News Service (12/28/01)
ALTAR, SONORA, MEXICO (12/19/01) - Desperation is growing on the border.
Many Mexicans thinking of crossing to look for work in the US know the current recession will make it harder to find a job. In the winter, the demand for farm labor, the first avenue of employment for many, is at its lowest point. And the risks are higher. Increased border enforcement in the wake of September 11 means having to cross through the desert even further from population centers to avoid getting caught.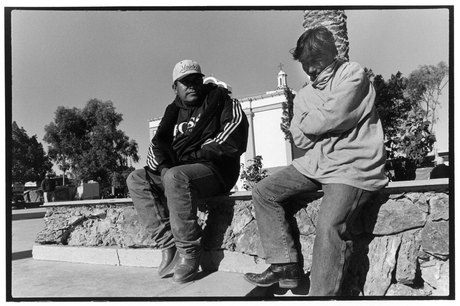 Altar, Sonora 12/6/01
Migrants gather in the plaza of Nuestra Señora de Guadalupe church before going to the border to cross into the US.
"I know it's getting harder on the border," says Eloy Camacho, who's decided to put off his trip with his brothers from San Quintin in Baja California until later this spring. In addition, he's planning to stay longer next time, instead of crossing back and forth every year. "I'm going to bring my wife and baby, and we'll stay four or five years," he thinks.
But the Mexican economy lost over half a million jobs last year. For some migrants, there is no alternative to going north.
A group of young men from Chiapas congregate in the church plaza in Altar, just south of the Sonora/Arizona border, waiting for a coyote to guide them across. They all agree that there's no work in the hills of southern Mexico. "We have families to feed," one says simply. A young man from Guerrero agrees that "you just can't make a living in the countryside. Why won't you [meaning the US] just let us cross and look for a better opportunity there?" he asks.
Workers are philosophical about the obstacles they face. Some, like Manuel Orozco, who's come from Michoacan in central Mexico, are aware of the increased patrols on the US side in the wake of September 11. "But there's no other way," he says. This will be his first trip across, and he doesn't quite know what awaits him.
Victor Aleman, from Queretaro, also in central Mexico, says it's the promise of work that's brought him to Altar. "In Mexico, you have to work like a dog just to maintain yourself. On the other side, there are much better jobs. That's what we're all going for — looking for a life on the other side," he says.
All along the border, on Mexico's Route 2, a string of towns have become jumping-off places for migrants heading north to the US. Altar is one of them, in the Sonoran desert, halfway between Mexicali and Nogales.
It's not a big place — beyond a few blocks on either side of the main highway, the dust and chamisa scrub take over. Across from the Pemex gas station is Nuestra Señora de Guadalupe, one of the ancient Spanish churches built by Padre Kino in the 1700s. Every day, in the plaza beside the church, dozens, sometimes even hundreds, of would-be immigrants sit and talk, or walk back and forth aimlessly. Townspeople have taken advantage of their presence, and put up booths in the plaza. Some sell toys and soccer balls — gifts for whatever family awaits in Los Angeles, Phoenix, Fresno or any of the many Mexican barrios which are their hoped-for destinations to the north. Other booths display more practical supplies. Gloves and hats, needed during the winter to meet the desert's biting cold, are popular items.
Migrants here are waiting for a ride towards the border. Altar is about 70 miles south of la linea, and people gather to find a ride or a coyote to get them closer, and eventually guide them over.
In front of the parish office, across the street from the church, a group of vans have pulled into the curb. Most bear placards describing their route as "Altar-Sasabe." Sasabe is a tiny hamlet on the border itself, and the vans make a daily run through the desert hills and small farming villages along the way.
They also pass one of the dozens of Mexican Army checkpoints scattered just south of the border from Tijuana to Matamoros. It's not likely that a van carrying a dozen migrants from the Altar church is going to make it through — the migrants are almost all much darker and shorter than the local residents, even though they, too, are largely people of mixed indigenous heritage — mostly Papago, Opota or Mayo.