Immigrants
Stories

2010
EVEN WITHOUT ARIZONA'S LAW, IMMIGRANT WORKERS FACE FIRINGS AND WORSE
2009
SHOULD WE DEFEND UNDOCUMENTED WORKERS?
MASS FIRINGS -- THE NEW FACE OF IMMIGRATION RAIDS
"WE MADE THEM MILLIONS AND THEY COMPLAIN ABOUT INSURANCE"
"ILLEGALS" OF THE WORLD UNITE?
IMMIGRATION REFORM: WHAT'S LABOR UP TO?
WHY WORKERS WILL FILL THE STREETS THIS MAY DAY
2008
CHANGE IMMIGRANTS AND LABOR CAN BELIEVE IN
HOW DO YOU SAY JUSTICE IN MIXTECO?
"WE ARE WORKERS, NOT CRIMINALS"
MISSISSIPPI WORKERS FIGHT RACIAL DIVISIONS AFTER COUNTRY'S LARGEST IMMIGRATION RAID
2007
POLITICAL ECONOMY OF MIGRATION
TIME TO BUILD A STRONGER, MORE RADICAL MOVEMENT
WHO KILLED THE IMMIGRATION BILL, AND WHO WANTS IT TO COME BACK?
THE REAL POLITICAL PURPOSE OF THE ICE RAIDS
GUEST WORKERS FIRED AFTER PROTESTING SLAVELIKE CONDITIONS
CHRISTMAS AT WOODFIN SUITES - WHEN WORKING BECAME A CRIME
PROPOSED CONCEPTS FOR IMMIGRATION LEGISLATION - 110TH CONGRESS
2006
THE VOICES OF IMMIGRANTS MUST BE HEARD
CONGRESS MUST FACE REALITY – IMMIGRANTS WANT EQUALITY
2005
THE BORDER IS A COMMON GROUND BETWEEN US
UNITING AFRICAN-AMERICANS AND IMMIGRANTS
TRANSNATIONAL COMMUNITIES REDEFINE CITIZENSHIP
FOR A GLOBALIZED WORLD
2004
HOW US CORPORATIONS WON THE DEBATE OVER IMMIGRATION
COLLISION OVER FARM WORKER LEGALIZATION
BRITAIN'S WAR OVER MANAGED MIGRATION
2003
pre-2003
After 9/11, Immigrant Workers In the Crosshairs (12/15/02)
For Justice, They Need Us: the story of an immigrant organizer (9/11/02)
Fast Track To The Past: Is A New Bracero Program In Our Future? (and what was life like under the old one?) (8/8/02)
Who Will Do The Work? (5/10/02)
Braceros Or Amnesty? (7/22/01)
Fourteen Dead on the Border - For What? (6/5/01)
The Story of a Bracero (4/18/01)
Bondage Or Freedom? The Debate Over Immigration Between Labor and the Republican Right (2/5/01)
El Valiente Chicano (1/19/01)
Workers Need Immigration Amnesty, Not Contract Labor
(10/27/00)
Why Labor Needs to Organize and Defend the Rights of Immigrant Workers (9/1/00)
Los Angeles Turns Out for Amnesty (6/12/00)
The Story of a Garment Worker (6/12/00)
On Immigration, The AFL-CIO Gets It Right
Immigrant Workers Ask Labor - "Which Side Are You On?" (11/18/99)
The Law That Keeps Workers Chained (10/2/99)
Ethnic Cleansing in Nebraska (7/19/99)
Asthmatown (1/31/99)
Immigration Law - Bringing Back Sweatshop Conditions (11/10/98)
Paolo Friere Hits LA's Mean Streets (10/5/98)
Electricity Deregulation - The Myth of the Free Market (7/1/98)
An Immigration Policy Based on Human Rights (2/2/98)
Silicon Sludge (10/29/97)
Recycling - Not So Green to Its Neighbors (9/10/97)
It Can't Happen Here? (4/9/97)
The Escape of a Domestic Worker (10/22/96)
Are Undocumented Workers Being Thrown to the Wolves? (4/11/96)
Immigrant Workers Fight to Run Local 399 (9/16/95)
Gone Fishin' -- plantin' those grass roots in the water... (6/10/95)
The Mountain of Concrete (12/28/94)
The Clinton Immigration Reforms - Bending Before the Anti-Immigrant Wind (2/27/94)
From Ilopango to Pomona (8/25/93)
Photographs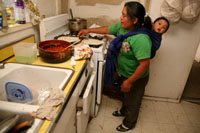 A New Indigenous Community in Taft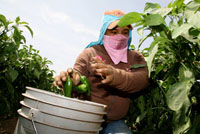 Mixtec Farm Workers of Lamont and Taft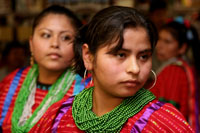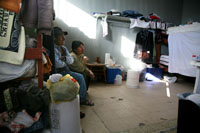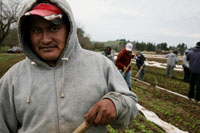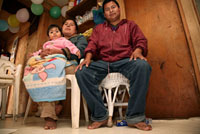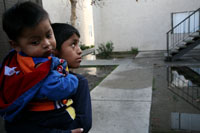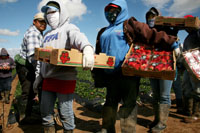 Santa Maria Mixtecos & Zapotecos at Work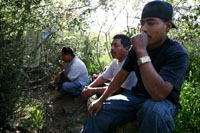 Mixtec Migrants in Los Peñasquitos Canyon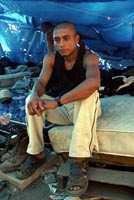 Living Under the Trees in San Diego and Sonoma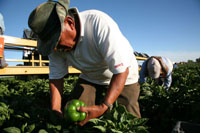 A Mixtec Family Near Fresno - Picking Bell Peppers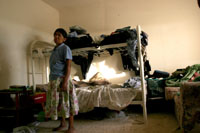 A Mixtec Family Near Fresno - At Home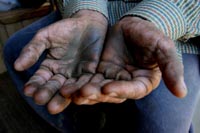 Sacramento Valley's Indigenous Olive Pickers and Labor Camps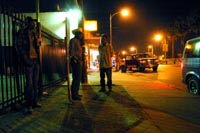 Picking Raisins and Asian Vegetables in Fresno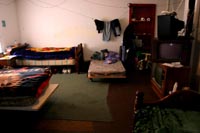 Indigenous Migrants in Fresno, Selma and Raisin City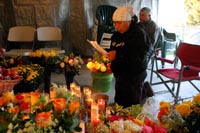 Mixtec Migrants in Fresno Celebrate San Miguel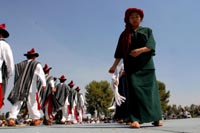 Indigenous Dancers at the Guelagetza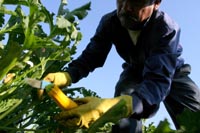 Triqui Workers Pick Squash and Cherry Tomatoes in Fairfield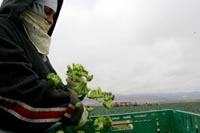 Salnias Valley - Cutting Broccoli and Separating Watermelon Flowers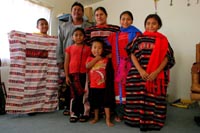 Salnias Valley -
Triquis and Mixtecos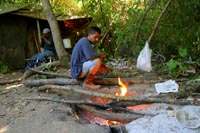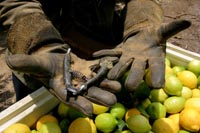 Limoneros Purepechas and Nahuatls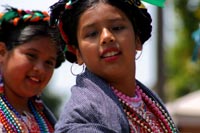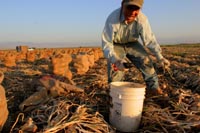 Indigenous Onion Workers in Arvin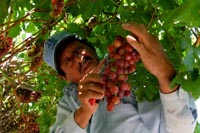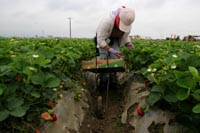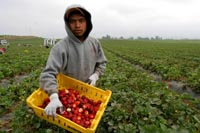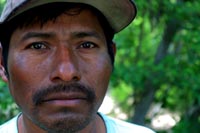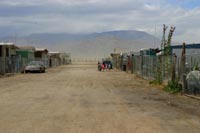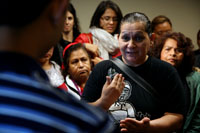 Protesting Arizona's Racist Law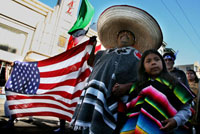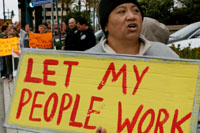 Woodfin Workers No-Match Protests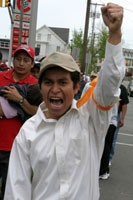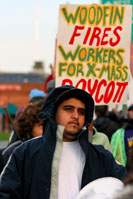 East Bay Immigrant Workers Fight for their Rights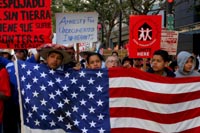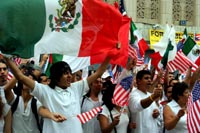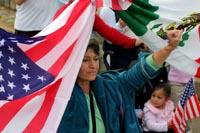 March for Amnesty and Equality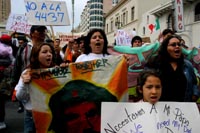 Immigrant Rights Vigil and March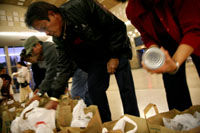 Airport Workers Food Distribution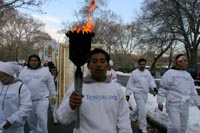 Guadalupana Procession in New York City