Iraq
In the millions of words and images produced since the beginning of the occupation of Iraq, the conditions for workers and their families have been virtually ignored. These photographs and articles contribute to a documentary record of how workers are affected by the war and occupation. The photographs in Workers of Baghdad were taken in October, 2003. The photodocumentary on Iraq's oil workers, Oil for Freedom, was made in May, 2005.
Stories
2007
IRAQ'S WORKERS STRIKE TO KEEP THEIR OIL
IRAQI OIL: A BENCHMARK OR A GIVEAWAY?
IRAQI UNION LEADERS CALL FOR AN END TO THE OCCUPATION
UNIONS STRUGGLE TO PROTECT IRAQI OIL - photoessay
2005
DISUNITY THREATENS IRAQI LABOR'S RESISTANCE TO OCCUPATION
AFL-CIO CONVENTION CALLS FOR TROOP WITHDRAWAL FROM IRAQ
IRAQ'S LONGSHORE WORKERS DEFEAT PORT PRIVATIZATION
IRAQI UNION LEADER OPPOSES OCCUPATION AND PRIVATIZATION
Interview with Ghasib Hassan
IRAQ'S OIL UNION WILL DEFEND THE COUNTRY'S OIL
Interview with Hassan Juma'a Awad
IRAQI UNION CALLS FOR A "FREEDOM CONGRESS" AND UN INTERVENTION
Interview with Felah Alwan, President of the Federation of Workers Councils and Unions of Iraq
THE DEATH OF HADI SALEH
The Vision and Dilemma of Iraqi Civil Society
2004
SERVICE EMPLOYEES LEADER SAYS THE WAR IS AN ISSUE TO WORKERS
SADDAM'S LABOR LAWS LIVE ON
Project Censored Award, 2004
Max Steinbock Award, 2004
2003
U.S. ARRESTS IRAQ'S UNION LEADERS
IN IRAQ, LABOR PROTEST IS A CRIME
Photographs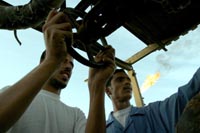 Oil for Freedom, Part 1
Basra Refinery
Oil for Freedom, Part 2
Drilling Rig
Oil for Freedom, Part 3
Families and Homes
Oil for Freedom, Part 4
Basra and Um Qasr
Oil for Freedom, Part 5
Iraqi Unionists